HEADSHOT DOS & DONTS
Your headshot is your most important selling tool. It is your calling card. The first impression. So it needs to stand out. Every actor who wants to audition for any production needs a headshot. Remember, this is an investment in YOUR career. Do it right.
Here are 3 Dos and Donts:
DO

1) Do make sure your headshot looks like you!  Nothing is worst for a Casting Director, then to look at a headshot and wonder if the person standing in front of him is the same person, cos the person in the photo had so much make up on and so much digital touchup done, that it looks like 2 totally different people.
2) Do show your age. When a Casting Director is casting for a 16 yr old, they would most likely want a 16 yr old playing that part.  And if you have some wrinkles around your eyes because you are 50 yrs old, show them off!
If a Casting Director was casting for a 35 yr old, he will not be pleased if he ends up auditioning a 50 yr old,  just because you have not updated your headshot.  So do update your headshot every 5 yrs or so.
17 years old and proud of my braces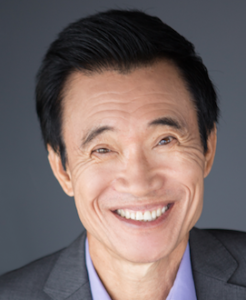 53 years old with battle scars and eye bags to prove it!
3) Do groom yourself. When we say make the photo look like you, it should be the best you. If you are the sort that is happy to walk around town with your hair not combed and dressed in a crumpled T,  you need to make sure you at least style your hair and wear a proper ironed shirt for that headshot photo.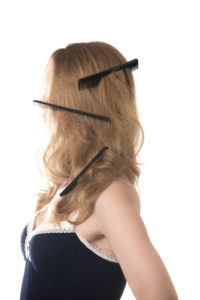 DON'T
1) Don't wear clothes that distract from your face, or stand in a place where the background looks busy. You want the casting director to be looking at you and not wondering…hmmmm is that a grasshopper in the background or where did she get that dress in the or what does the signage behind you say???
Wow! What a Big Hair Bow!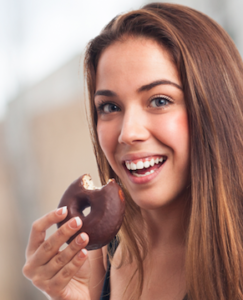 Ooooo … that Donut looks good! Wonder if its Dunkin' or Krispy Kreme?

2) Don't use glamour apps. Yes it's fun for those selfies you post on social media, whereby your face looks flawless. But remember, you cant do this for each and every single frame you are in when it comes to TV or Film. The best headshots is NOT the one that makes you look the most pretty,  it's the one that communicates. Pretty people are everywhere, but there is just 1 you.
We know who's been using those phone apps!
3) Don't pose artificially. Don't squint or pout cos you think it looks sexy. Don't give an angry or stern look cos you think it will make you stand out.
Er … are you having a Headache??
I'm Super Cool … or Angry … or I really dont want to take this picture
Here's a simple test : Who would you call in to audition?
So go out there and get some nice headshots and start getting those audition calls!
Photos Credit : www.freepik.com